Football:
School Football 2016-17.
Year 3 and year 4 boys took part in a tournament held at Batley Sports Centre (astroturf) on May 24th.
The boys played extremely well, winning all of their seven matches and after a thrilling final match against Bywell school,which they won 1-0, were declared tournament champions.
The boys showed a lot of potential and were able to finish the playing schedule without conceding a goal. Many congratulations go to the following boys:
James Hirst, Samuel Woods, Connor Irwin (year 3) , Ethan Jackson, Riley Moore, Tiernan Toher, Jack Dawson, Joseph Turner, Arlo Coubrough and Jacob Batley.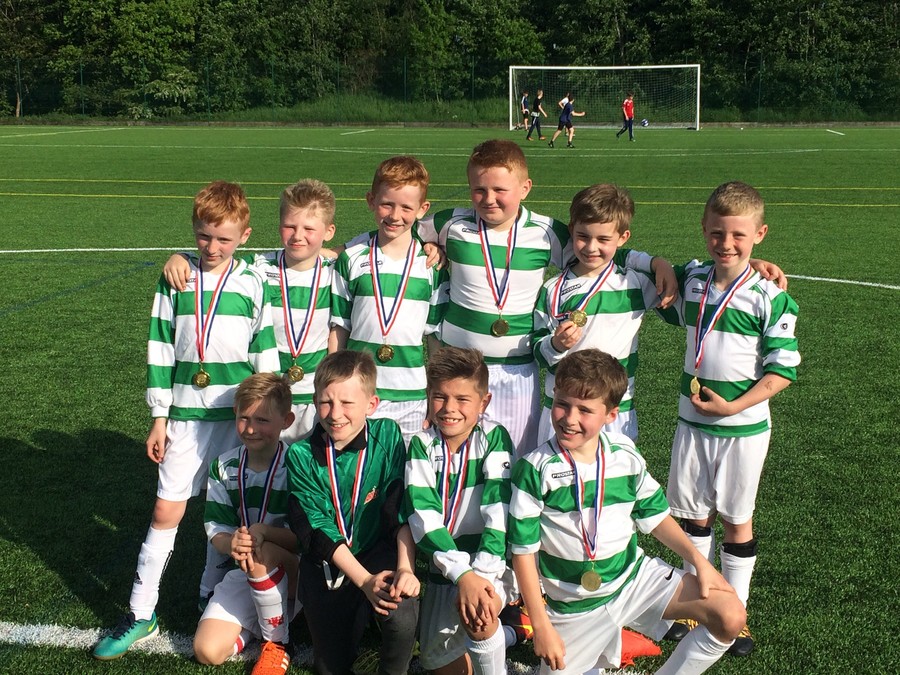 Year 5/6 BOYS: We have entered three competitions this school year and played Birstall County on our improved school field. The first games organised at our school for some time. Fifteen year 5/6 boys have had the chance to represent the school at football.
SPEN VALLEY SCHOOLS COMPETITION - held in November 2016 at St John Fisher. Our side qualified for the knock-out stages and just lost out after a penalty shoot out in the quarter finals.
BATLEY SCHOOLS TOURNAMENT - held in early March on the excellent newly resurfaced astroturf pitches at "Howden Clough". Our team won this event amassing a winning total of 17 points from our seven games. We only conceded one goal but also didn't score many. The boys played with confidence and our passing was excellent in most games. A really pleasing qualification for "finals night".
BATLEY SCHOOLS FINALS NIGHT- This tournament between the top six teams gave St. Patrick's a chance to become champions for the 4th successive year. The side began well but could only manage a 1-0 win despite our goalkeeper not touching the ball in game one. A surprise loss by 2-0 and two 0-0 draws followed. Our final match against Norristhorpe showed the true ability of our side and we won 2-0 against the eventual tournament winners. Congratulations to them.
The lack of goals cost our side in the finals league table as we finished level on points with two other schools but finished 4th on goal difference. A really tight finish to our football season.
Our outstanding players have been team captain Angus Sykes and Kai Carroll our goalkeeper, both in year 6. However 6 of our squad on finals night were year 5 boys; so we are in a good position to reclaim our title in 2017/18 ?
GIRLS FOOTBALL 2016/17.
We played in the Spen Valley tournament at SJF on a freezing night in January. Our 3 matches brought a win, a draw and a loss to a very strong Battyefford team who were much more experienced players. Our girls have attended weekly lunchtime practices and have shown a lot of enthusiasm.
However we are unable to play in the Batley schools event as it is being held when we are on our Easter break; very unfortunate.
BATLEY PRIMARY SCHOOLS SPORTS ASSOCIATION.
FOOTBALL FINALS YEAR 5/6. WEDS 9/12/15.
We won this tournament in 2014 and on a windy cold night on the Astroturf at Howden Clough we tried to defend the winners shield.
Game 1 v Orchard Academy (Chickenley). St Patrick's played really well in the opening match and won 4-0. An impressive start.
Game 2 v Healey. Again we played really well and achieved another 4-0 victory.
Game 3 v Howard Park. In the qualifying tournament we lost 1-0 to this school but tonight we played our best game of the night and won 5-0.
Game 4 v Staincliffe. We didn't realise at the time but our opponents had also won every game but again overall we were too strong and won 3-0. Excellent again.
Game 5 v St Mary's. Perhaps we were a little too excited but we forgot to defend and after a few scares conceded our first goal of the night. After this we panicked for a while but with the wind behind us in the second half our pressure told and we scored a late equalizer. We drew 1-1.
This meant ............we were successful! Brilliant overall, WELL DONE!
St Patrick's 13points goal diff +20.
Staincliffe 10 points.
St Mary's 8 points.
ST PATRICK'S YEAR 5/6 FOOTBALL.
THURSDAY OCT 15TH 2015. V RAVENSTHORPE (AWAY).
Our school played a 6-a-side match against Ravensthorpe, made up of 3 games each lasting 10 minutes.
Game 1: This was a close game and our goalkeeper made a few great saves when we were under pressure. St Patrick's managed to attack but couldn't really test their goalie much. We lost game 1 by 1 goal to nil.
Game 2: St Patrick's conceded an early goal but then dominated the rest of the game hitting the post/bar at least 4 times. Our team levelled with a penalty and then went into the lead when it looked like Ravensthorpe scored an own goal. With a bit of luck we might have scored 5 goals in game 2. We won this game 2-1.
Game 3: St Patrick's again hit the post a few times before scoring from wide-out. We had lots of chances but again our goalie made some good stops. With 30 seconds to go we forgot to defend and 3 opposing players ran the length of the pitch and after another good save Ravensthorpe equalised. At the very end we nearly got a winner. The game 3 score was a draw 1-1.
OVERALL SCORE ST PATRICK'S 3 RAVENSTHORPE 3.
H. Hartley, H.Avis,A.Sykes,A.Bean, D.Jowett,C.Byrne, L. Armitage, K.Carroll,T.Karte represented our school.
WEST YORKSHIRE YOUTH GAMES
BECKETTS UNIVERSITY, LEEDS : JULY 5TH 2016
.
7 A-SIDE FOOTBALL: Our team didn't qualify for the knock-out stages but did manage one-win from our 4 group games. We had a lot of defending to do in all matches but didn't give up. Our win came against Thackley primary who were representing Bradford. Our glory moment this year was becoming North Kirklees champions after two qualifying tournaments.
Again on the day competing against champion teams from other areas (Bradford, Leeds, Wakefield and Calderdale) was a big challenge. However we should be very pleased and proud to have taken part in such an excellent competition at such a good venue.