24/4/18
Tag Rugby – North Kirklees Finals, Leeds Road Playing Fields
Our Year 5/6 side took part in this event hoping to maintain our school's proud record of the past 4 years; St Patrick's have won this event every year since 2014.
The morning consisted of 10 matches and our side won them all. The best games coming against Windmill, Roberttown and Holy Spirit. St Patrick's winning all these matches by 3 tries to 1.
The top 16 sides played in a knock-out tournament after lunch which led to a grand final.
St Patrick's defeated Hyrstmount and Batley Parish comfortably reaching a semi-final against Bywell (the only other undefeated side). After an excellent performance, St Patrick's reached the final winning 4 tries to 1.
In the pouring rain, against a much bigger St Joseph's team, we scored first but the opponents equalised near the end taking the game into 'Golden Try' time.
However St Patrick's were not to be denied scoring a terrific try to finish on top. Another memorable tournament. Congratulations!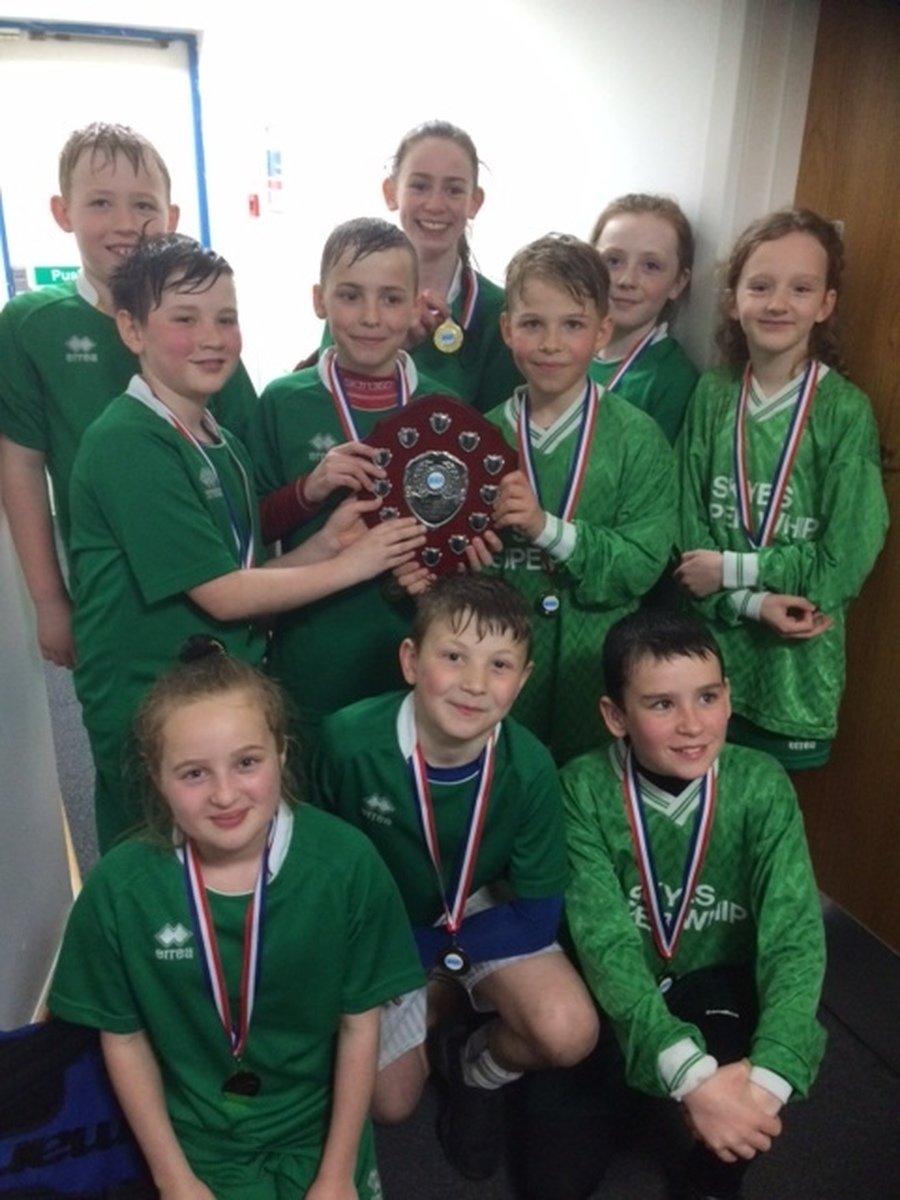 NORTH KIRKLEES TAG RUGBY COMPETITITION
MAY 16th 2017.
St Patrick's took a team to Leeds Rd Sports Complex Huddersfield to defend their title as shield holders from the previous year.
Only one of the 2016 team made themselves available to be selected so all the boys came from year 5 (5 boys), while all the girls (4) came from year 6.
Tag Rugby lunchtimes games/practices have been held at school since the start of the school year in September. These were particularly well attended by year 5 pupils.
Our team for the tournament :
Joseph Diskin
Dalton Healey
Quin Bentley
William Murphy
Fionn Illand-Hurd.
Isabel Dawson
Phoebe Butterworth
Matilda Butterworth
Aimee Hirst.
In our first match our side looked really sharp and won 8 tries to 1 against Battyeford and then faced six more group matches. Some of these were close encounters particularly so when we played Holy Spirit, which we won in the last few seconds 3-2 and also our two drawn games. However we were delighted to have remained undefeated winning five and drawing the two other games.
This meant we were group B winners and were in with a chance to win the qualifying tournament for a remarkable fourth year in succession.
The side played well in the quarter final against Hightown winning 2-0 before playing the best match of the event probably against Bywell; who had won all of their games previously. This was a very exciting match which St Patrick's won 4-2; qualifying for the final v Norristhorpe.
Again the team excelled themselves and played extremely well to win 4-1. This means we were invited to be one of the two teams representing Kirklees in the West Yorkshire Youth Games on July 7th.
For a small school like ourselves this is a big achievement and now we face a big challenge.
But we will as always try our best
North Kirklees Tag Rugby Finals - 18/5/16
We took two teams to the North Kirklees Tag Rugby Finals which featured 27 teams and over 300 children participated in the tournament.
Team North: Team South:
Harry A Nathaniel M
Alfie Mc Conall B
Luke A Liam J
Liberty P Thomas K
Scarlett H Shauna T
Matilda B Phoebe B
Alfie B Aimee H
Aaron J Devon B
Scarlett G
Team North were outstanding throughout the tournament and won all of their 11 games making them the 3rd successive team to win the tournament - fantastic achievement for such a small school! Outstandingly, Team North scored around 50 tries throughout the day and only conceded 6 - fantastic defence! Team North met Bywell Primary School in a thrilling final and won 4-0 due to strong running and a brilliant/fearless defence! Well done to the Top try scorers Alfie Mc, Luke and Harry A. Liberty, Matilda, Scarlett, Aaron and Alfie B were outstanding throughout the day and dug deep to tag their opponents at a blinding pace in the final.
Team South thoroughly enjoyed the day and worked extremely hard in a competitive league. The tournament had some fantastic tries from Nathaniel, Conall and Liam and the great 'tagging' defense of Shauna, Aimee, Phoebe, Thomas, Devon and Scarlett proved invaluable throughout the day! The team improved throughout the tournament and they grew in confidence game by game! Well done to all of you!
Rugby
Tag Rugby training for Years 5 & 6 is every Tuesday dinner time at 12pm.
Batley Parish tournament - 23/10/15
To begin the year Batley Parish organised a practice tag rugby tournament where we played four games in total.
We managed to win all our games which has given us a huge boost to begin the school year!
We will now continue training for the tag rugby tournament in April.
WEST YORKSHIRE YOUTH GAMES
BECKETTS UNIVERSITY, LEEDS : JULY 5TH 2016.
TAG RUGBY 7-a-side: Our side played a tense game in our opening match drawing 1-1 with a team who finished 3rd in the final table. Our second match brought our only win by 4-0. Defeating Moorlands in this match meant we could claim to be champions of Kirklees. In our third game we lost to Airedale by three tries to one after giving our all (Airedale were the only team to defeat us by 2 tries and won the tournament drawing one and winning 7 games). We managed to draw two further games but lost 4 others by either 3-2 or 4-3; all exciting matches. These games included a last second loss to Wortley (who finished second and were undefeated in their 8 games).
It was slightly disappointing to finish 8th out of 9 schools but we needed to be able to have a passing game to add to our strong defence and running games and we couldn't manage it on the day. Playing 8 games with only one reserve was a bit too much for us as well. Many thanks to our parents association who provided the funding for our extremely smart green rugby kit to play in.