Mental Health and Wellbeing
Here at St Patrick's Catholic Primary Academy, we aim to ensure that children learn how to become aware and learn about their own mental health and wellbeing.
We aim to ensure that all children feel happy, comfortable and where children are struggling with their mental health, we put the appropriate measures in place in order to help them. We aim to provide a calming environment for all children to improve the mental health and wellbeing of all.
We support our children with their mental health in the following ways:
Identify where extra support is needed

Interventions put in place where needed

Working with outside agencies to make referrals if children are struggling with their mental health and wellbeing

Meetings with parents to discuss any concerns and how we can help a child moving forward

Supporting children through the use of our 'Smile Squad' who support their peers with wellbeing

The use of the Zones of Regulation for all children

Working with Catholic Care to provide support for children and their families

Working with our Mental Health Support Team to provide support for children and their families

Training for some staff members to become Mental Health First Aider trained, so that early identification can be acted upon and appropriate resources can be accessed.
Below are some useful links that can be used at home to help your child with their mental health and wellbeing
A website to help children with calming exercises. There are lots of games they can play, along with videos and activities to try.
Advice on how to keep calm and advice on worries.
A variety of activities helping children to get active, lots of dance routines and songs to learn!
Supporting children to choose healthier options.
Mental Health Support Website from our MHST team
Cosmic Yoga for children to help with calming down.
Northorpe Hall - Thriving Kirklees
Support for parents with your child's mental health.
Free Wellbeing Journal from 'Outside the Box', helping children with their wellbeing through a range of different activities.
Urgent Support
SHOUT – Text service
Text AFC to 85258 – 24/7
Children's mental health out of hours service provided by Northorpe Hall:
01924 316830
Childline
0800 1111
Samaritans
Ring 116 123
Kirklees urgent mental health support
Ring 0800 183 0558
We also have the Zones of Regulation resources which can be found under the 'Our Parents' tab, followed by 'Our Zones of Regulation'.
Please click here to find our Mental Health and Wellbeing Policy
Pets as Therapy
At St Patrick's Catholic Primary Academy, we are lucky enough to be working with the charity Pets as Therapy. Sadie comes into our school to work with our children throughout the year.
Please find information below about the Brighter Gray's - Family Bereavement Support Group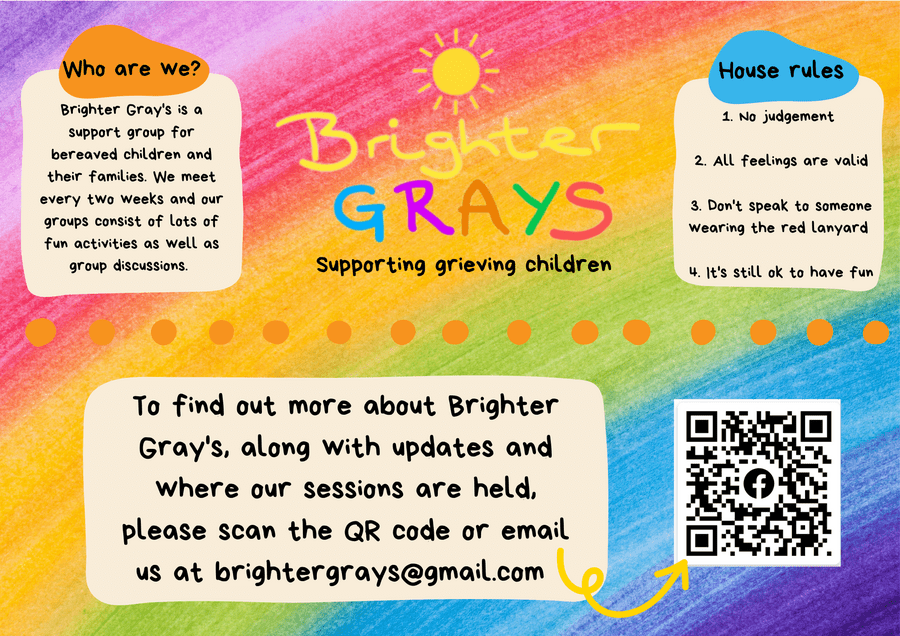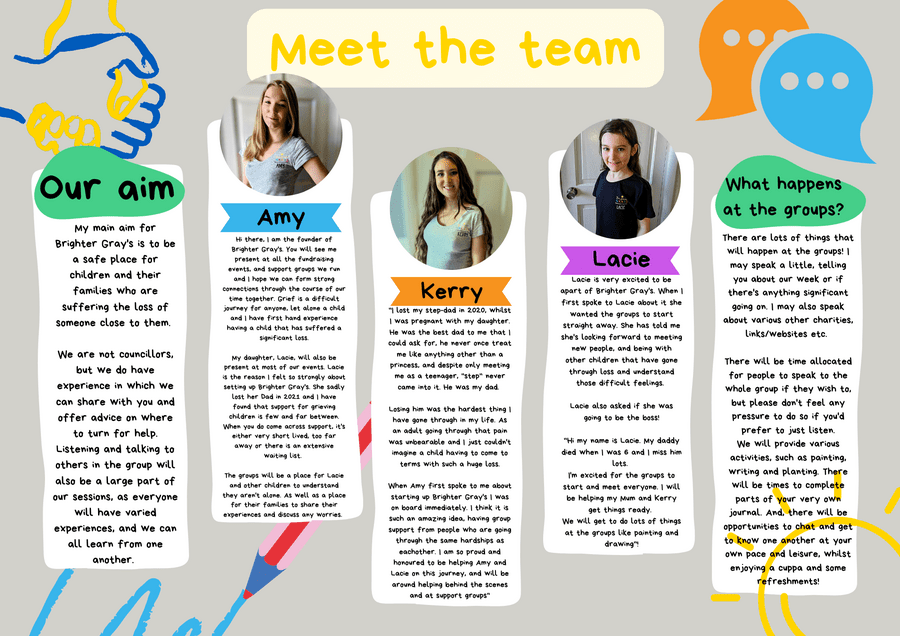 Mental Health Support Team
From September 2022 we have been invited to access a new service from Kirklees called the "Mental Health Support Team or MHST". This will allow school to have increased access to additional support on top of the current Catholic Care provision we have in place. There are two pathways to the new provision, one for pupils and one for parents of current pupils – Miss Helena Ho is the Education Mental Health Practitioner linked to the pupil provision and Miss Victoria Wade is linked to the parent provision. In order to access this support, a referral will need to be completed together with the child, parents and school staff. This referral will then be looked at by our new Mental Health Practitioners and they will then advise both families and school on the next steps.
There will be a coffee morning at 9:00am on Friday 16th September 2022 for parents to come to school, enjoy a coffee after drop-off in the morning and meet our Mental Health Support Team, who will be explaining more about their roles and the new provision.
Over the course of the year, we will be hosting a number of coffee mornings/workshops to offer support and ideas for dealing with a variety of issues such as bed wetting, bedtime routines, food related challenges, dealing with anxiety, parental separation and supporting effective transitions, as well as others. As a school we feel that this is a very welcomed addition to our current provision and we hope you will feel the benefit of it moving forward.
Please click the links below to view flyers from our Mental Health Support Team and where and how to
access Mental Health Support
Mental Health and Wellbeing in Kirklees Poster 1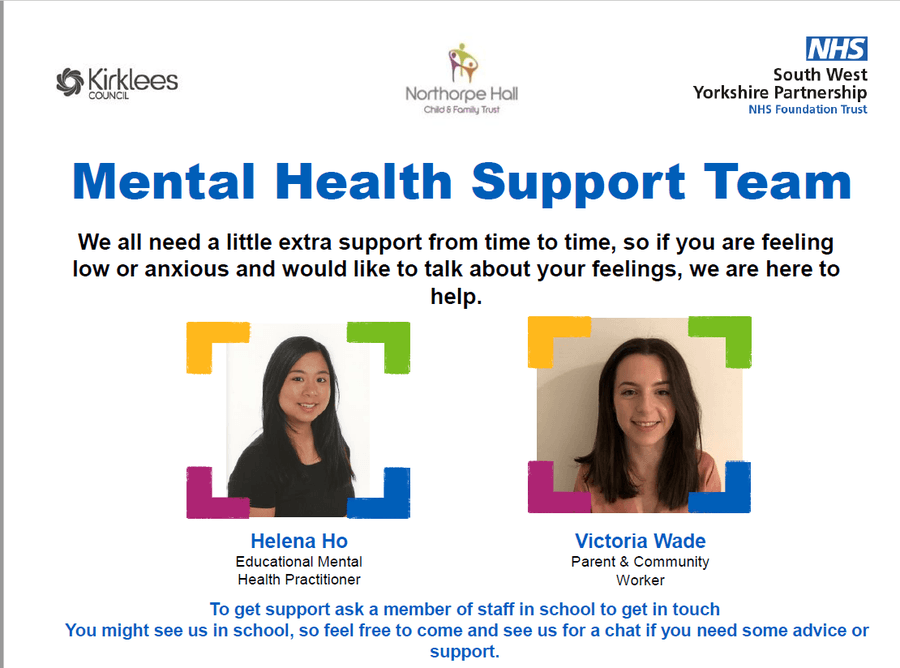 New Parent and Community Worker - June 2023
Further Parent Support and Courses
Please click the link below to access free parenting courses
Book Recommendations from our Mental Health Support Team
Our Parent Workshops
Our MHST workshops for parents take place throughout the year and are based on the interests of our families.
Please see the documents below for the information slides from each of the sessions.
April 2023
Today we had an Anxiety Workshop for KS2 children, led by Helena Ho.
KS1 also had workshops and made their own Worry Monsters.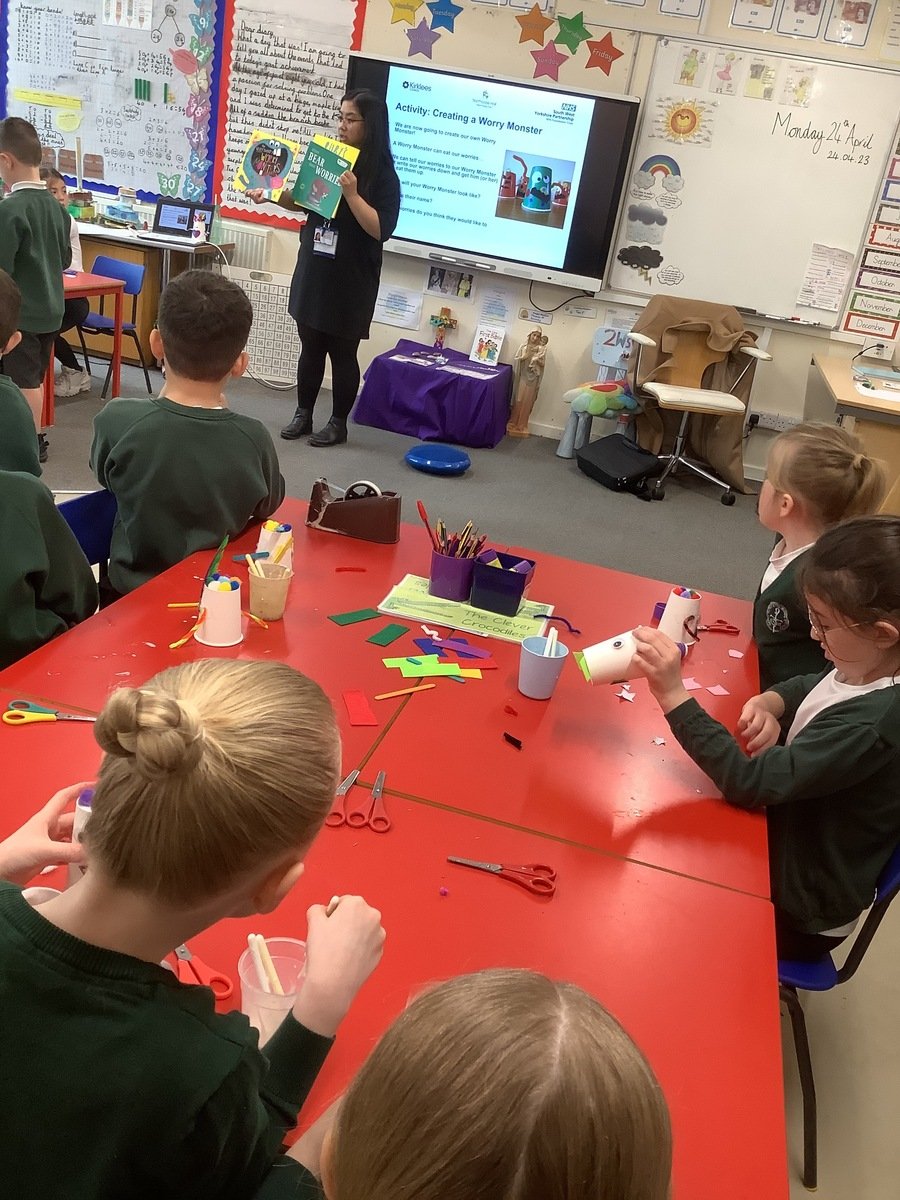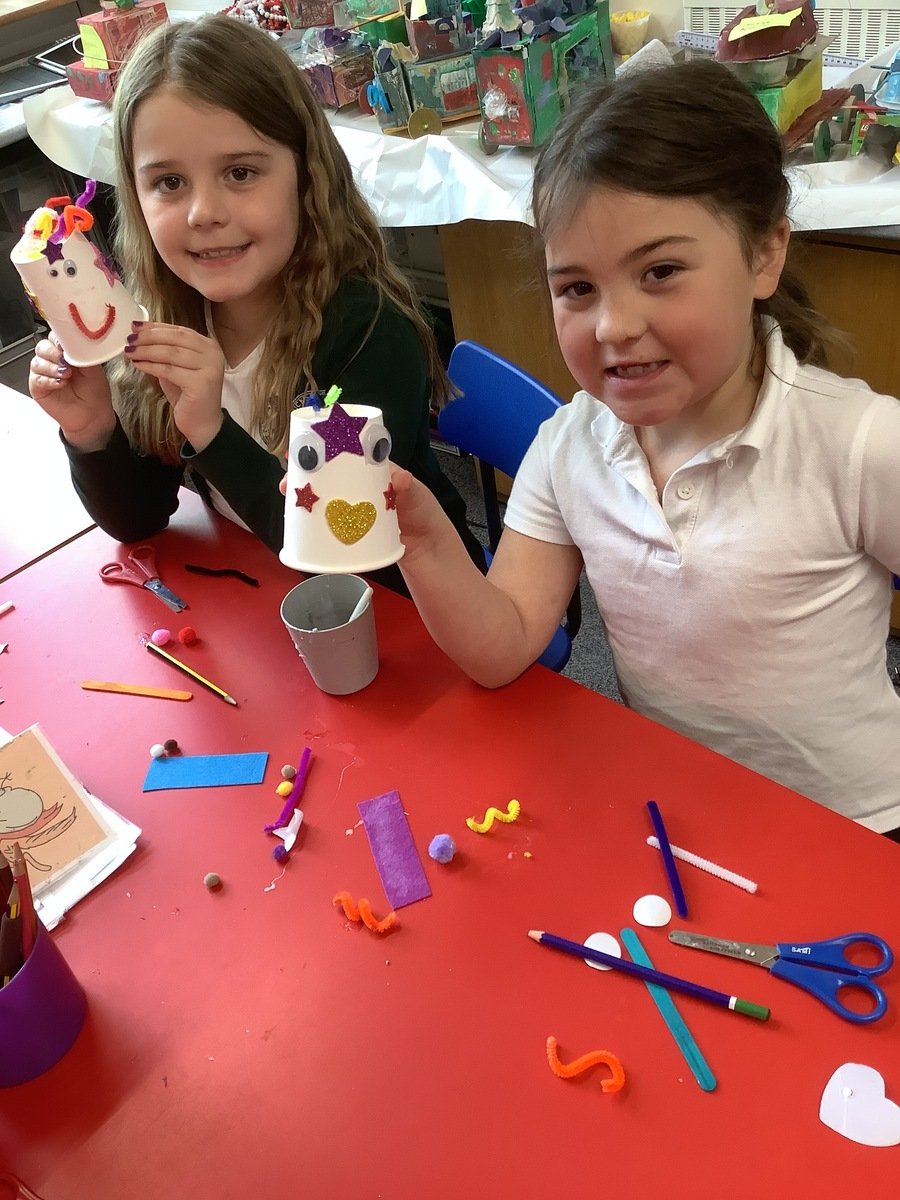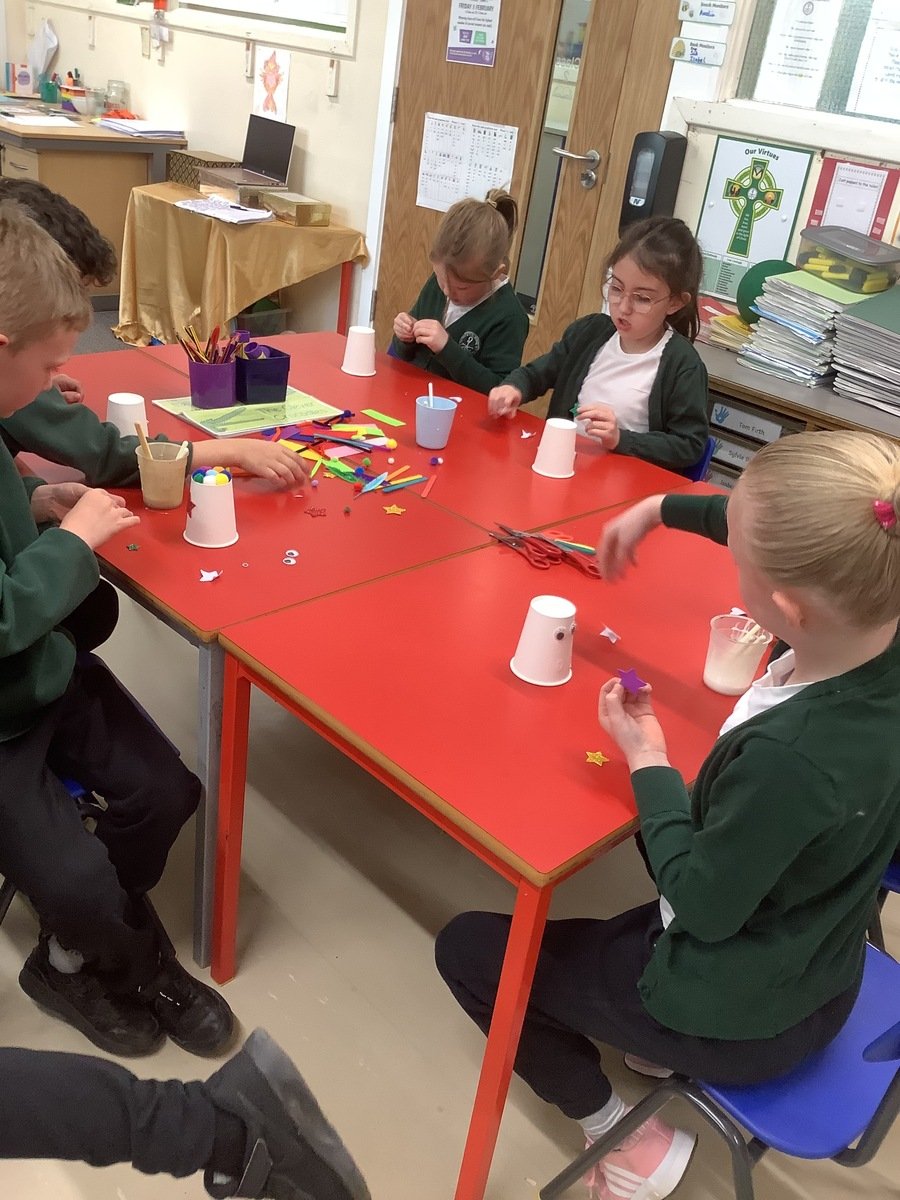 April 2023
Year 6 had a SATS Anxiety Workshop this week led by the MHST.