Admissions Policy Consultation
Holy Spirit Catholic Primary School, Heckmondwike and St Patricks Catholic Primary School, Birstall are consulting on changes to their admission arrangements for September 2022/23.
Consultation 30 November – 22 January 2021
The proposed change relates to the defined area of both schools. The Diocese of Leeds are responsible for determining school defined areas which historically have been based on parish boundaries. The parish of St Paul of the Cross, Cleckheaton does not have its own parish school, the two nearest Catholic primary schools are Holy Spirit and St Patrick's. Due to the oversubscription for places at both schools it has become necessary to give a higher priority at either Holy Spirit or St Patrick's dependant on the applicants address. Please see the proposed admissions policy for 2022/23 which details the oversubscription criteria.
Proposed Admissions Policy for 2022/2023


The attached map identifies how the Cleckheaton area will be split between the two schools.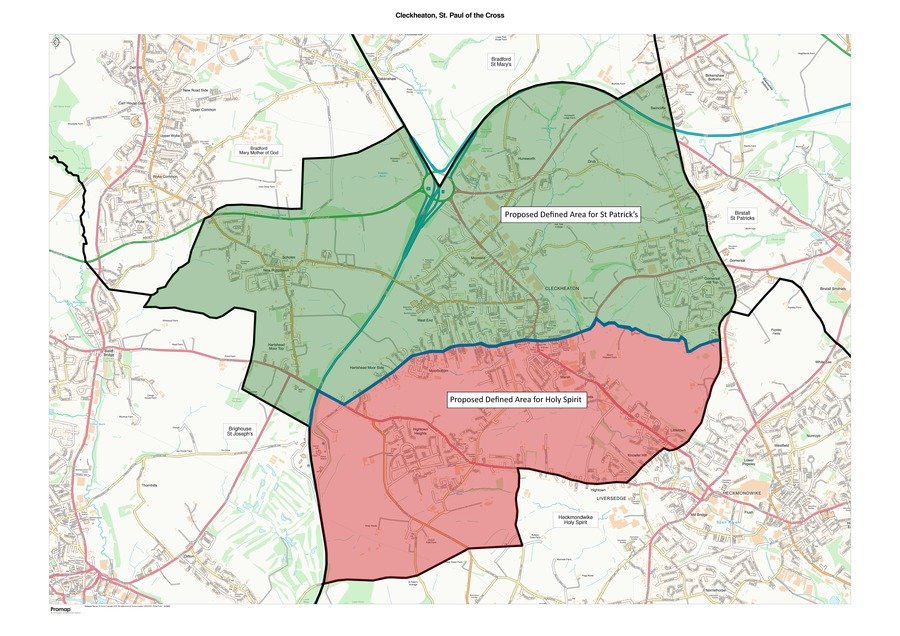 We would like to hear your views and comments about the proposed changes to the schools defined areas. All comments should be in writing to:
Education.admin@dioceseofleeds.org.uk or Vicariate for Education – Diocese of Leeds, Hinsley Hall, 62 Headingley Lane, Leeds LS6 2BX by 22 January 2021.