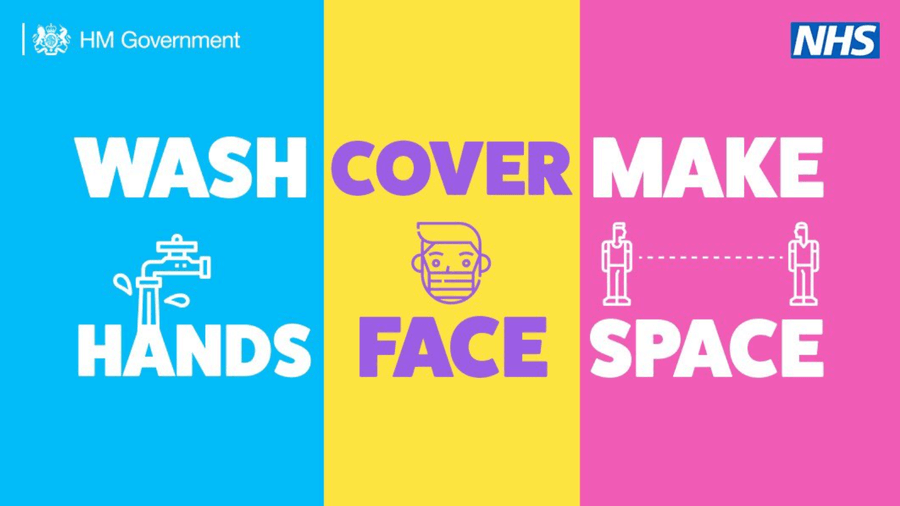 Should My Child Be in School?
Children cannot be in school if they have any of these specific symptoms until they have had a negative test. Siblings should also not be in school until the results of the test are known as the family must begin isolation.
The NHS currently advises that these are the most common symptoms of Covid19:
high temperature – this means you feel hot to touch on your chest or back (you do not need to measure your temperature but this would be considered 37.8 °C or higher)
new, continuous cough – this means coughing a lot for more than an hour, or 3 or more


coughing episodes in 24 hours (if you usually have a cough, it may be worse than usual)

loss or change to your sense of smell or taste – this means you've noticed you cannot smell or taste anything, or things smell or taste different to normal
NOTE: You or your child may have other symptoms similar to the above, but at the moment, only these specific symptoms are clear indicators of Covid-19 and would require isolation and a test to be arranged.
Please also refer to the Kirklees Schools Isolation Guide for Parents
So, you must:
Let school know if your child or anyone in your family bubble has symptoms - that person along with the other household members must stay at home

Book a test as quickly as possible

Inform school of the result of the test – by taking a screenshot of the result and emailing it to our Headteacher. Once it is seen it will immediately be deleted.

If your child tests POSITIVE then you must keep them at home (your family bubble needs to isolate for 14 days from the date of the test) their school bubble will also close for 14 days – the Remote Learning Policy will then be actioned.

If the test is negative you must let school know and email a screenshot of the test result to our Headteacher.

If NEGATIVE then your child and their siblings can return to school the next school day.
If your child begins to display symptoms in school, then staff will:
Isolate them in our medical room and support them so they do not feel worried;

Contact you and ask you to collect them immediately;

Ask you to book a test and inform us of the results;

You will need to begin a period of family isolation until the results are known;

If your child tests POSITIVE then you must keep your child and their siblings at home (your family bubble needs to isolate for 14 days) and their school bubble will close for 14 days

If the test is negative you must let school know and email a screenshot of the test result, this will be deleted once it is seen.

If NEGATIVE then your child and their siblings can return to school the next school day
Given the serious nature of the virus and the need to keep school open, we need you to commit to come and collect your child immediately should we report that they are displaying symptoms.
Testing
We have been made aware that some children with COVID-19 symptoms are being turned away from local test sites as they struggle to cope with demand. Please keep trying to book a test for you or your child as they cannot return to school without a negative test or 10 days of isolation if they have been displaying symptoms.
Essential workers can go on the government website to book a test for essential workers.
Members of the public including children use the NHS website or call 119 if you do not have internet access.
If despite trying, you are unable to get a test please contact the school and we will do all we can to help.
Please note that unless advised otherwise, only people who present with any of the three main symptoms of COVID-19 should be tested.
Testing must be conducted within the first 5 days of the onset of symptoms – although the quicker this is completed the quicker we can get the pupils back to school.
If needed you can access:
NHS Online symptom checker: 111.nhs.uk/covid-19/

If a child is unwell, it is essential that they access appropriate healthcare and clinical assessment, through 111, the local GP or hospital if required.

NHS services are open and ready to care for patients
Hygiene
Washing hands more often than usual, for 20 seconds, using soap and water is essential;

For regular coughs and sneezes: catch it, bin it, kill it;

Avoid touching eyes, nose and mouth with unwashed hands;

Clean and disinfect regularly touched objects and surfaces more often than usual using standard cleaning products.
Social distancing
We MUST all limit contact with other people who do not live in our house;

We MUST stay 2 metres apart from other people where possible;

We MUST wash our hands regularly and more often than usual;

Self-isolate if you or anyone in your household has symptoms.
Travel
Wherever possible please avoid using public transport;

Travel on foot, in your own family car or by bicycle if possible.
Face coverings
Should be worn by the vast majority of people when in enclosed spaces, such as on public transport, in taxis, when visiting a hospital, in shops and supermarkets and whenever we are indoors with people who are not part of our household or bubble including when speaking to a member of school staff;

Should not be worn by children under the age of 3 and are not required for children under the age of 11;

Are not required where there is a legitimate reason for someone not to wear one, such as physical or mental impairment or disability.
Runny noses and sore throats
As children return to schools and other settings after the prolonged break, colds and similar viral infections are likely to circulate. Children with simple cold symptoms such as runny noses or sore throats without fever who would normally have attended school or childcare at other times should not be tested for COVID-19 and can attend the setting if they feel well enough to do so. If they have a new, continuous cough or a temperature (see above) they should not be in school and you will receive a call asking you to collect them immediately and book a COVID test.
Coronavirus Latest Advice
We will ensure we keep our school community updated on the government's response to COVID-19 (Coronavirus) so that we can all stay as safe as possible.
The following information has been received:
Department for Education Coronavirus helpline
A new helpline to answer questions about COVID-19 related to education has been set up. Staff, parents and young people can contact the helpline as follows:
Phone: 0800 046 8687
Email: DfE.coronavirushelpline@education.gov.uk
Opening hours: 8 am to 6 pm (Monday to Friday)
Please find below the latest advice for educational settings. These will be updated whenever changes or updates occur so that parents and carers have the most up to date information that is guiding the school response to this unprecedented situation.
The World Health Organisation has developed some Parenting Advice posters to support parents during this unprecedented time which I have added below. I have also added an information poster that has just been released here in the UK regarding other illnesses in children and using emergency services as you would usually do.
We must ensure that as a school community we are always following the guidance, staying alert to the virus, controlling through maintaining social distances and wearing face coverings in public places - always following the guidance. In this way we can support the safety and well-being of our whole school and the local community together.
| Name | |
| --- | --- |
| 012176-Department-of-Education-Parent---Carer-Information-A4-NEW-HR.jpg | Download |
| Coronavirus letter for parents and carers 16.03.20.docx | Download |
| Coronavirus update letter 17.03.20.docx | Download |
| Kirklees Schools child isolation guide for parents - COVID-19.pdf | Download |
| Parent Letter regarding absence procedures 2020.pdf | Download |
Showing 1-5 of 5
| Name | |
| --- | --- |
| Coronavirus-ABookForChildren.pdf | Download |
| covid19-advice-for-parents-when-child-unwell-or-injured-poster.pdf | Download |
| Dave the Dog worries about Coronavirus (Children's story).pdf | Download |
| WHO COVID 19 Parenting advice 1 one to one time.pdf | Download |
| WHO COVID 19 Parenting advice 2 Keeping it Positive.pdf | Download |
| WHO COVID 19 Parenting advice 3 Structure Up.pdf | Download |
| WHO COVID 19 Parenting advice 4 Bad Behaviour.pdf | Download |
| WHO COVID 19 Parenting advice 5 Keep calm and manage stress.pdf | Download |
| WHO COVID 19 Parenting advice 6 Talking about COVID 19.pdf | Download |
Showing 1-9 of 9